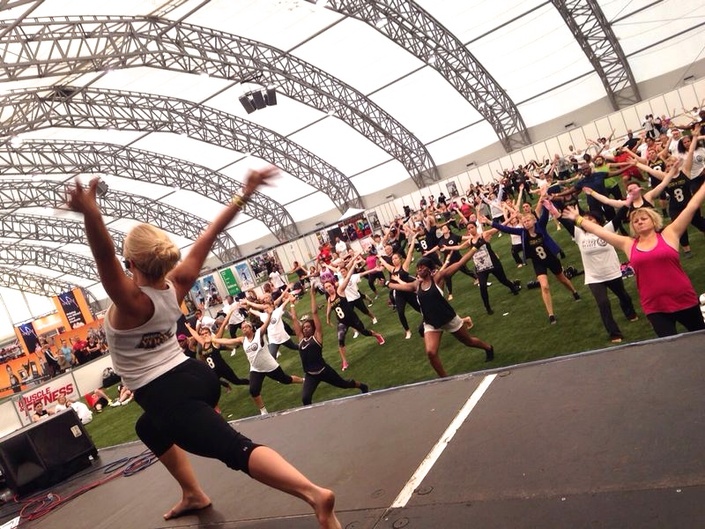 BoxingYoga™ Teacher Training Course
Described by Men's Health as 'one of the best classes in the UK' and a 'fitness phenomenon' by Forever Sports magazine, the endorsed BoxingYoga™ Teacher Training Course enables anyone, anywhere to train and become a fully qualified BoxingYoga™ Coach.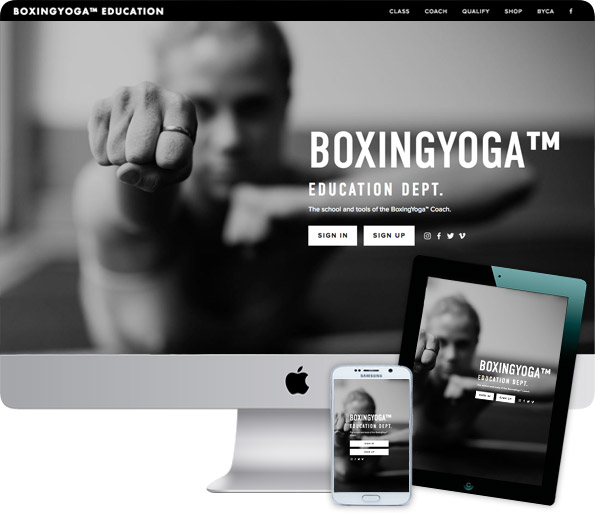 STUDY ANYWHERE. TEACH EVERYWHERE.
Whatever your boxing or yoga experience, even if you are a complete beginner to both, this course has been designed to provide all the knowledge, guidance and training you need to become a certified BoxingYoga™ Coach; qualified to teach online and at yoga studios, boxing clubs, fitness gyms, sporting institutions and private venues worldwide.
BOXINGYOGA™ KNOWLEDGE
As a BoxingYoga™ Coach-in-Training you get exclusive lifetime access to extensive training materials, so you can:

Learn the BoxingYoga™ class structure, transitions and individual postures with anatomical illustrations descriptions and modifications
Learn how BoxingYoga™ complements the boxer's training regime and how it provides boxers and athletes with competitive advantage, contributes to improved technique, prevents injury and enhances performance
Learn about BoxingYoga™ teaching methods, theory and philosophy
Learn how BoxingYoga™ distinguishes itself as an alternative form of yoga, and how it meets the needs of individual students with or without boxing or yoga experience
Master the structure, timing and function of each stage of the BoxingYoga™ class
Learn to cue and demonstrate physically and verbally
Teach a safe and effective BoxingYoga™ class with cautions and modifications
Instruct and motivate students from different backgrounds
Cultivate good practice, maintain patience and a positive mental attitude
Learn about group dynamics and the most effective teaching strategy, from managing different learning styles to providing appropriate feedback and encouragement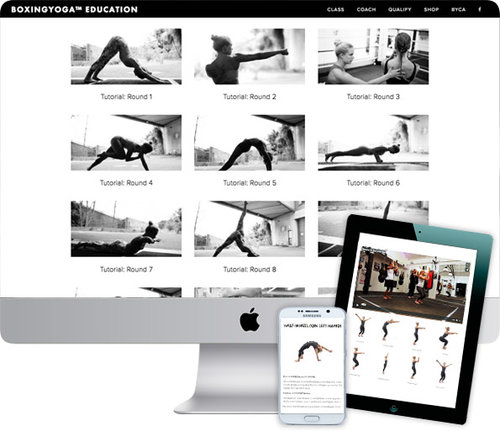 EXTENSIVE LEARNING MATERIALS
Accessible from any device, the wide range of training materials include:
The detailed BoxingYoga™ Teacher Training manual in downloadable and on-screen PDF format
Hours of observational BoxingYoga™ class and coaching tutorial videos including adjustments and variations
Detailed theory documents covering both boxing and BoxingYoga™ in downloadable and on-screen PDF format
Insightful Coaching Practices and Coaching Philosophy documents in downloadable and on-screen PDF format
Useful learning aids including a Personal Action Plan
BoxingYoga™ Brand Guidelines and marketing advice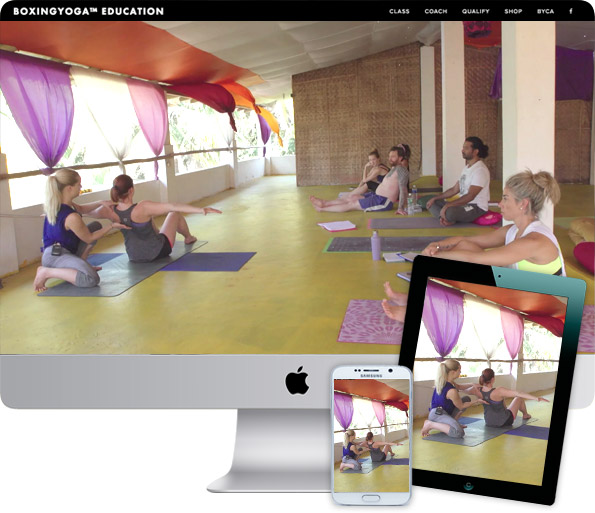 BOXING BASICS FOR BEGINNERS
If you are completely new to boxing, or could use a refresher, free enrolment to the endorsed Total Boxer® Boxing Basics course is included.
Understanding the basics of boxing is not only a really fun thing to do but it helps to appreciate the significance of BoxingYoga™, making you an even better BoxingYoga™ Coach.
Learn and practice the boxing basics, including;
Boxing theory and history
How to adopt a boxer's stance
Using footwork in boxing
The four punches, including the jab, cross, hook and uppercut
Defensive work including parries, blocks, slips and rolls
Putting it all together with combinations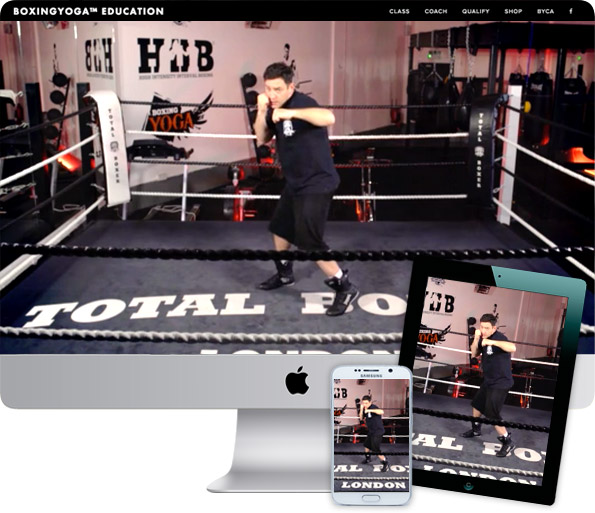 A LITTLE HELP FROM YOUR FRIENDS
You are not alone! BoxingYoga™ is all about our community. When you're enrolled you will receive an invitation to join the private BoxingYoga™ Coaches & Trainees support group on Facebook.
Available throughout the course and beyond, the group is a great way to meet the BoxingYoga™ community from all over the world to ask questions, make friends and get support from coaches, head coaches and fellow trainees everywhere from London to Los Angeles.
YOUR OWN PRIVATE ONLINE COACH
In addition to the considerable training materials and support included within the course, trainees have the option for private online training with a BoxingYoga™ Head Coach.
Private online training is useful if you find yourself stuck on any aspect of your training, if you require help in preparation for your assessment or simply to reaffirm your knowledge and skills.
You can ask questions about training, have your postures and transitions reviewed and even have technique demonstrated to you. You may also use the sessions to get advice on marketing, promotion and business development.
Wherever you are in the world, a real life BoxingYoga™ Head Coach is available for a small fee to provide advice and support in most major world languages.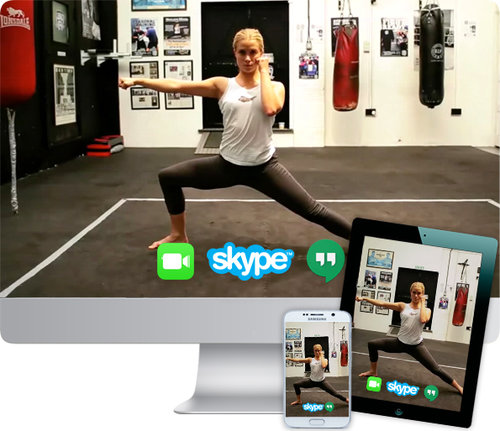 ASSESSMENT & CERTIFICATION

The final stage of the course is to successfully complete and pass an online exam and submit a video of you teaching a class so that it can be reviewed by a BoxingYoga™ Assessor. The criteria for the video is clearly explained in the training materials and detailed feedback is provided to help your practice. Once qualified, you will receive your certificate of qualification and be officially licensed to teach BoxingYoga™.
PROFESSIONAL ENDORSEMENT
The BoxingYoga™ Teacher Training course is fully endorsed by PD:Approval.
PD: Approval is one of the largest independent quality assurance institutions supporting the Health and Fitness Industry in the UK.
Their endorsement of BoxingYoga™ Teacher Training demonstrates the quality of the course and, once qualified, your recognition as a professional BoxingYoga™ Coach of the highest standard.
ONGOING SUPPORT TO HELP YOU GROW
Once qualified all coaches can join the BoxingYoga™ Coaches Association (BYCA) - an extensive support system to you help get the most from your BoxingYoga™ practice or business.
Whether its promotional support, marketing advice, bonus training videos, priority teaching opportunities or the chance to progress to BoxingYoga™ Assessor, Head Coach or Ambassador, membership to the BYCA has it all.
Bonus training videos, including 15, 30, 45 minute and advanced classes
Regular promotion of your classes and events via official BoxingYoga™ social media channels
License to use official BoxingYoga™ promotional imagery
Priority invitation to receive BoxingYoga™ corporate and venue enquiries
Priority invitation to teach at BoxingYoga™ partner venues
Exclusive invitation to teach at BoxingYoga™ retreats and events
Discounted coaching insurance
Recommended class music playlists
Recommended first aid training providers
Opportunity to progress to BoxingYoga™ Assessor, Head Coach, Ambassador and Licensee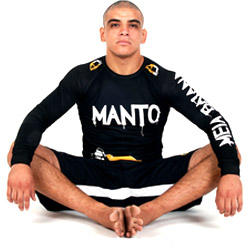 "BoxingYoga is a great program, highly recommended to everyone. Matt and Kajza are amazing people with positive energy."
- Carlos Sapao, Multiple World and Brazilian National Jiu Jitsu Champion
Course Curriculum
BoxingYoga™ Class
Available in days
days after you enroll
Your Instructor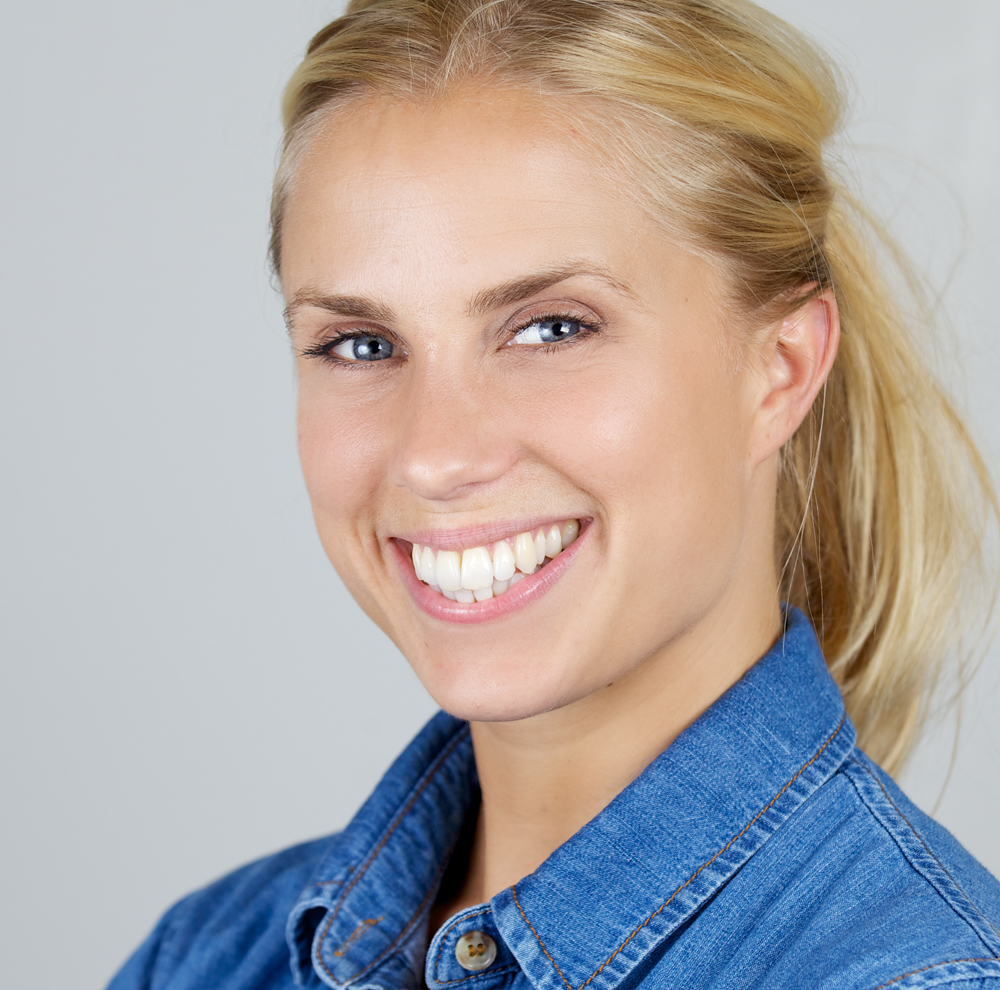 Swedish born, Kajza spent her childhood in India, where her mother was an Ashtanga Yoga teacher, helping her learn the alphabet with asanas and doing headstands before bed.
A lifelong yogi practitioner and certified teacher, Kajza is an all-round physical mover; competing in gymnastics on a national elite level in Sweden, followed by years of boxing and martial arts training, before embarking on her classical dance studies.
Established herself as a highly-respected international contemporary dancer and teacher, Kajza performed with leading dance companies and taught extensively throughout Europe and North & Central America.
Partnering with BoxingYoga™ founder, Matt Garcia, Kajza combined her passion, knowledge and experience to play a crucial role in developing BoxingYoga™ as we know it today.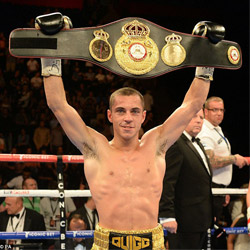 "BoxingYoga helps me improve in every department. A lot of fighters don't know how to stretch properly. BoxingYoga has everything they need - it keeps you young, keeps you fresh and keeps your body more athletic for a longer period of time, so you can do what you love for longer."
- Scott Quigg, Former World Super Bantamweight Boxing Champion
"Following the success of BoxingYoga in pre-season at our Training Academy, we set-up regular post-match BoxingYoga recovery sessions for our First Team. The sessions have proved extremely beneficial and it's no coincidence the squad are recovering faster from injury and showing improvement on post-match fatigue. We couldn't be happier with the effect BoxingYoga is having on the players and their ability to consistently perform at the highest level. I strongly recommend BoxingYoga to everyone."
- Philip Morrow, Performance Director, Saracens Rugby Club
Frequently Asked Questions
I have little or no yoga or boxing experience, can I take the course?
Yes you can. You don't need formal qualifications or training experience in boxing or yoga to take the BoxingYoga™ Teacher Training Course. It's designed to give you all the knowledge and practical support you need, so you can learn to teach BoxingYoga™ safely and effectively.
What are the prerequisites to taking the course?
There are no prerequisites to enrolling in BoxingYoga™ Teacher Training. It would be helpful to have some experience of practicing or teaching yoga or boxing, but it's not essential. This course provides you with the training and materials to allow you to develop the skills and experience you need.
How long do I have access to the training materials?
You have access to BoxingYoga™ Teacher Training materials throughout your training and beyond, as you will find the information an extremely useful reference resource even after you qualify.
How long does the course take?
Everyone learns at a different pace, however if you are a complete beginner to yoga or BoxingYoga™ we recommend allowing 3 to 4 months (1 to 2 months for experienced yogis) to learn, practice and be confident for your assessment.
Can I pay for the course in instalments?
Yes you can. Check out the payment options to choose your preferred way to pay for the course.
What is the cost of the course in my local currency?
As a UK company our prices are in UK Pounds. We recommend using an online currency convertor like xe.com for a guide on exchange rates.
Do I need to pay an ongoing license fee to teach?
No. You are not required to pay ongoing license fees to teach BoxingYoga™. License to teach BoxingYoga™ is granted free of charge on the completion of the BoxingYoga™ Coach License Agreement and the successful completion of this BoxingYoga™ Teacher Training course.
I have little or no business and marketing experience, can you help me once I qualify?
Absolutely. As part of your membership to the BoxingYoga™ Coaches Association we provide marketing support and business tools to help you succeed. You can also use the optional private training for guidance on a range of business and marketing topics, from the best use of social media, to whether you should offer free trial classes to prospective students and venues (hint - you should!).
Do you offer private online training?
Yes we do. Private online training is available when you are enrolled in the course and is useful if you find yourself stuck on any aspect of your training, if you require help in preparation for your assessment or simply to reaffirm your knowledge and skills.
Do you offer venue-based training?
Most of our training is delivered online, but we also organise venue-based practice training days and courses in London, Stockholm and Los Angeles. If you would like to notified of a training day or if you are interested in hosting one, let us know!
Can you recommend Liability Insurance for coaches?
We do not offer liability insurance ourselves, but as BoxingYoga™ is an accredited programme, insurance is available. If you are based in the UK or Europe we have negotiated special rates with our insurance partner. Details are available to all enrolled trainees.
Can I progress to become a BoxingYoga™ Assessor or Head Coach?
Yes you can. Once you have successfully qualified as a BoxingYoga™ Coach we recommend at least 12 months of teaching experience before applying. All applications for Assessor or Head Coach are considered on the basis of demonstrating the highest level of teaching ability, organisational skill and passion for growth.
Is ongoing support available once I'm qualified?
Yes! Not only do you get lifetime access to the exclusive community group of BoxingYoga™ Coaches on Facebook, you have the option to join the BoxingYoga™ Coaches Association (BYCA) with a range of support options available.
How can I learn more about BoxingYoga™?
For more information about BoxingYoga™ visit boxingyoga.com or email us
[email protected]
Does the format of BoxingYoga™ change or is it a set routine?
BoxingYoga™ is a structured flow but there are allowances for modification depending on ability or injury. These modifications are covered in the course.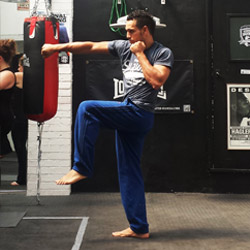 "BoxingYoga enables me to stretch out all the important muscle groups I need for my training. Coming back from injury, it's been essential help for me to recuperate in a safe and effective way, whilst improving my strength, flexibility and speed. I'm also finding it gives me real peace of mind and mental clarity parallel to my normal boxing training regime."
- Yassine Elmaachi, Prizefighter Boxing Champion
Courses Included with Purchase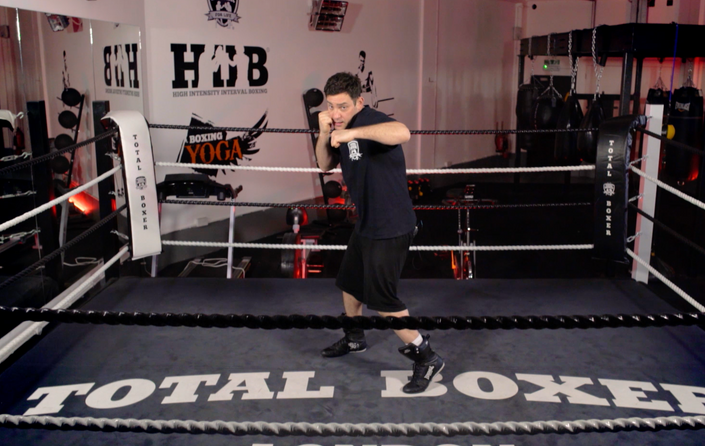 Total Boxer® Boxing Basics
The boxing essentials for beginners, personal trainers and fitness coaches.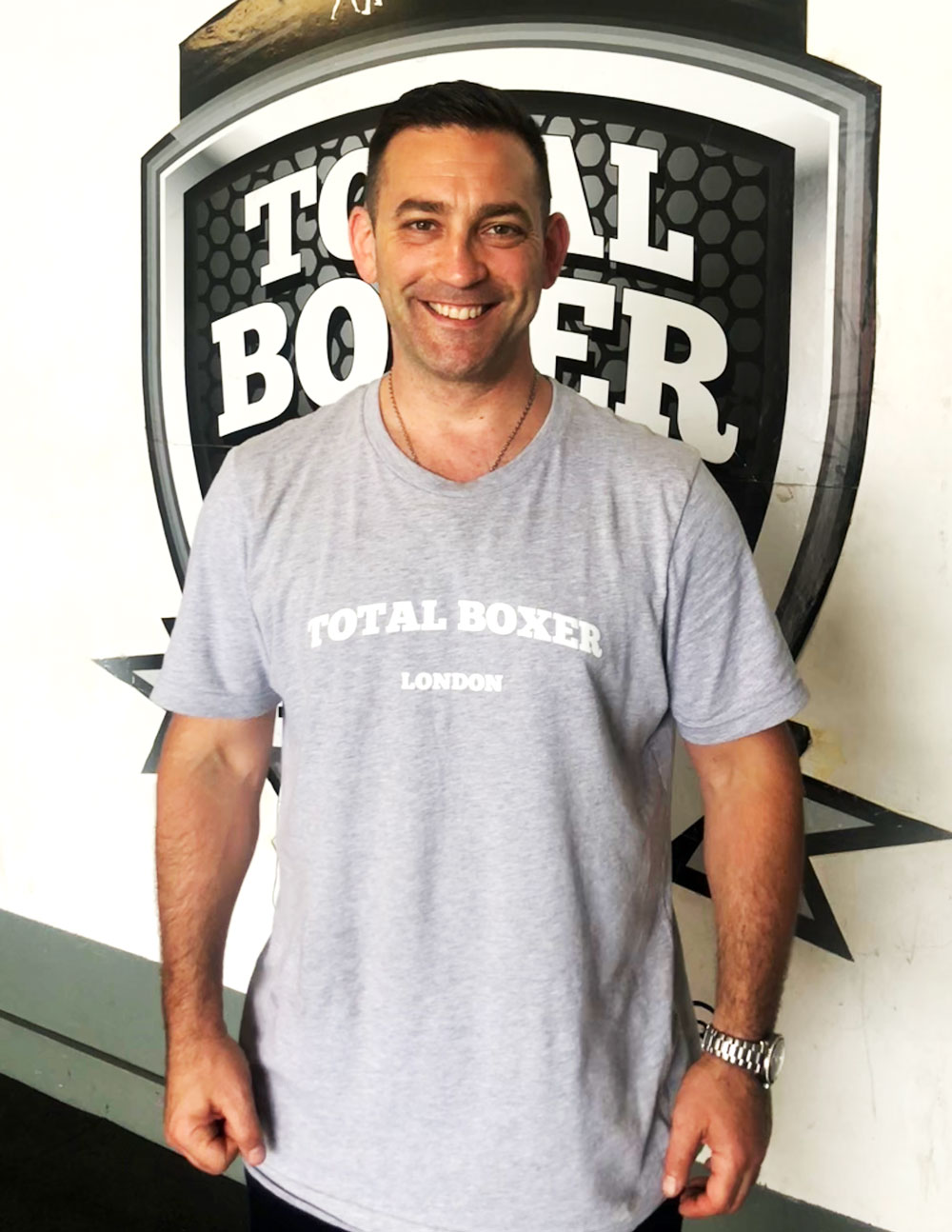 £49
Original Price: £49