BoxingYoga™ is the original yoga-based training method for core strength, body power and injury prevention - described by Men's Health as 'one of the best classes in the UK' and a 'fitness phenomenon' by Forever Sports.
Over a flow class of almost 60 minutes, BoxingYoga™ explores and promotes coordination, body awareness and correct posture alignment, helping to build strength both mentally and physically, as well as shorten recovery time and cultivate relaxation and muscular tension release.
Created by Total Boxer® founder, Matt Garcia, and yoga teacher, Kajza Ekberg, BoxingYoga™ today has practitioners and coaches in more than 25 countries around the world.
The BoxingYoga™ Teacher Training Course
Whatever your boxing or yoga experience, even if you are a complete beginner to both, the self-paced, online BoxingYoga™ Teacher Training course has been designed to provide all the knowledge, guidance and training you need to become a certified BoxingYoga™ Coach, wherever you are in the world.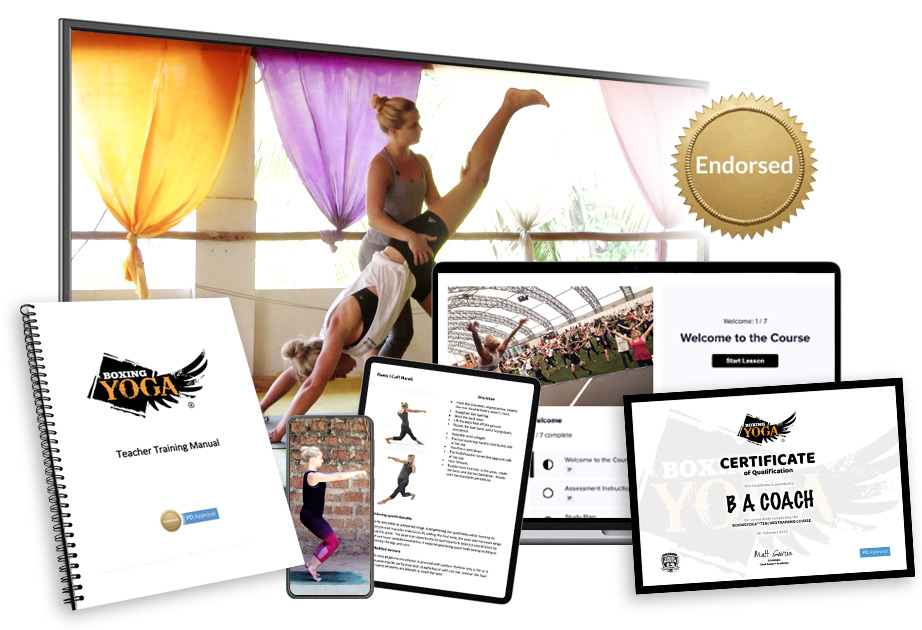 Features and benefits of the course, include:
No formal qualifications or coaching experience required
Comprehensive program and materials (check out the curriculum, below)
Lifetime access to all training materials
No travel time - fully online course, on any device
Self-paced Study - take as long as you need
One-to-one tuition available online or at private studio in London
Lifetime support from BoxingYoga™ HQ and worldwide coaching community
Free video assessment to achieve certification
Certificate on completion
Professionally recognised qualification
Invitation to join the BoxingYoga™ Coaches Association once certified
Total Boxer® Boxing Basics Online Course included
Total Boxer® OnDemand Subscription included
Easy on the finances - payment plan available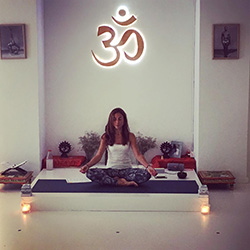 "The training is awesome. I'm super happy to share my experience: the training material is very comprehensive and useful. The asanas are super powerful and the whole methodology is really easy to follow."
- Mireia Vivaciouss, White Yoga Ibiza
Total Boxer® Boxing Basics Course - Included FREE
As BoxingYoga™ originates from the world of boxing it's helpful for BoxingYoga™ Coaches have an understanding of at least the basics of boxing. This is why we are proud to include the self-paced, online Total Boxer® Boxing Basics Course FREE to BoxingYoga™ Course students.
With techniques Total Boxer® and BoxingYoga™ founder Matt Garcia has used to guide 1000s of boxing beginners and fitness enthusiasts for more than 20 years, the Total Boxer® Boxing Basics Course is endorsed by the National Governing Body for Group Exercise, fully online and includes a certificate on completion.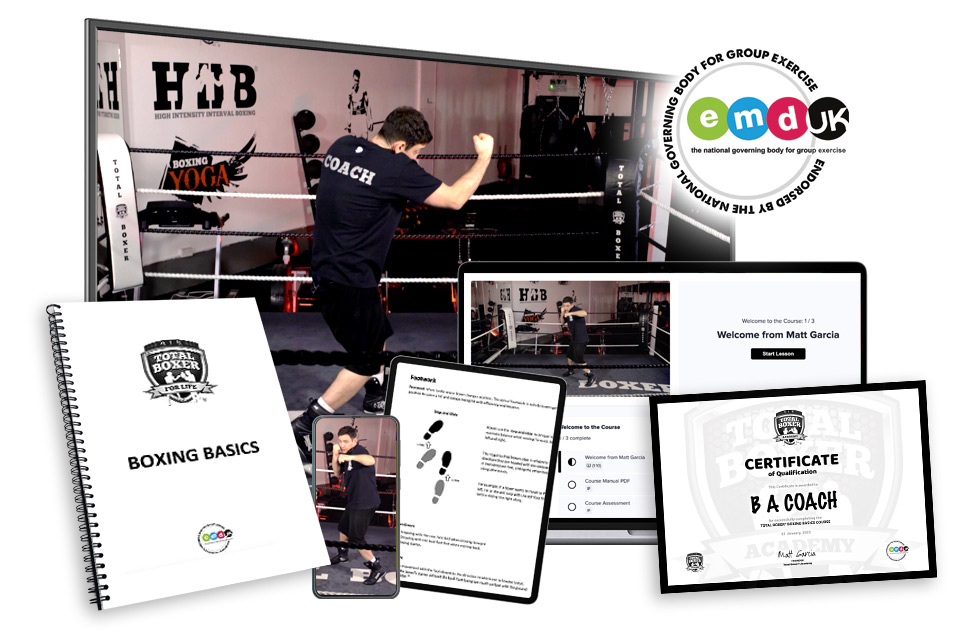 Course Curriculum
BoxingYoga™ Class
Available in days
days after you enroll
BoxingYoga™ Theory
Available in days
days after you enroll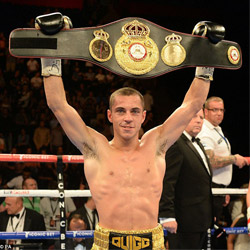 "BoxingYoga helps me improve in every department. A lot of fighters don't know how to stretch properly. BoxingYoga has everything they need - it keeps you young, keeps you fresh and keeps your body more athletic for a longer period of time, so you can do what you love for longer."
- Scott Quigg, Former World Super Bantamweight Boxing Champion
BoxingYoga™ Coaches Association (BYCA)
Once qualified all coaches are invited to join the BoxingYoga™ Coaches Association (BYCA) - an extensive support system to you help get the most from your BoxingYoga™ practice or business.
Whether its promotional support, marketing advice, bonus training videos, priority teaching opportunities or the chance to progress to BoxingYoga™ Assessor, Head Coach or Ambassador, membership to the BYCA has it all.
Bonus training videos, including 15, 30, 45 minute and advanced classes
Promotion of you and your classes and events via official BoxingYoga™ social media channels
License to use official BoxingYoga™ promotional imagery
Priority invitation to receive BoxingYoga™ corporate and venue enquiries
Priority invitation to teach at BoxingYoga™ partner venues
Exclusive invitation to teach at BoxingYoga™ retreats and events
Discounted coaching insurance
Recommended class music playlists
Opportunity to progress to BoxingYoga™ Assessor, Head Coach and Regional Licensee
Your Instructor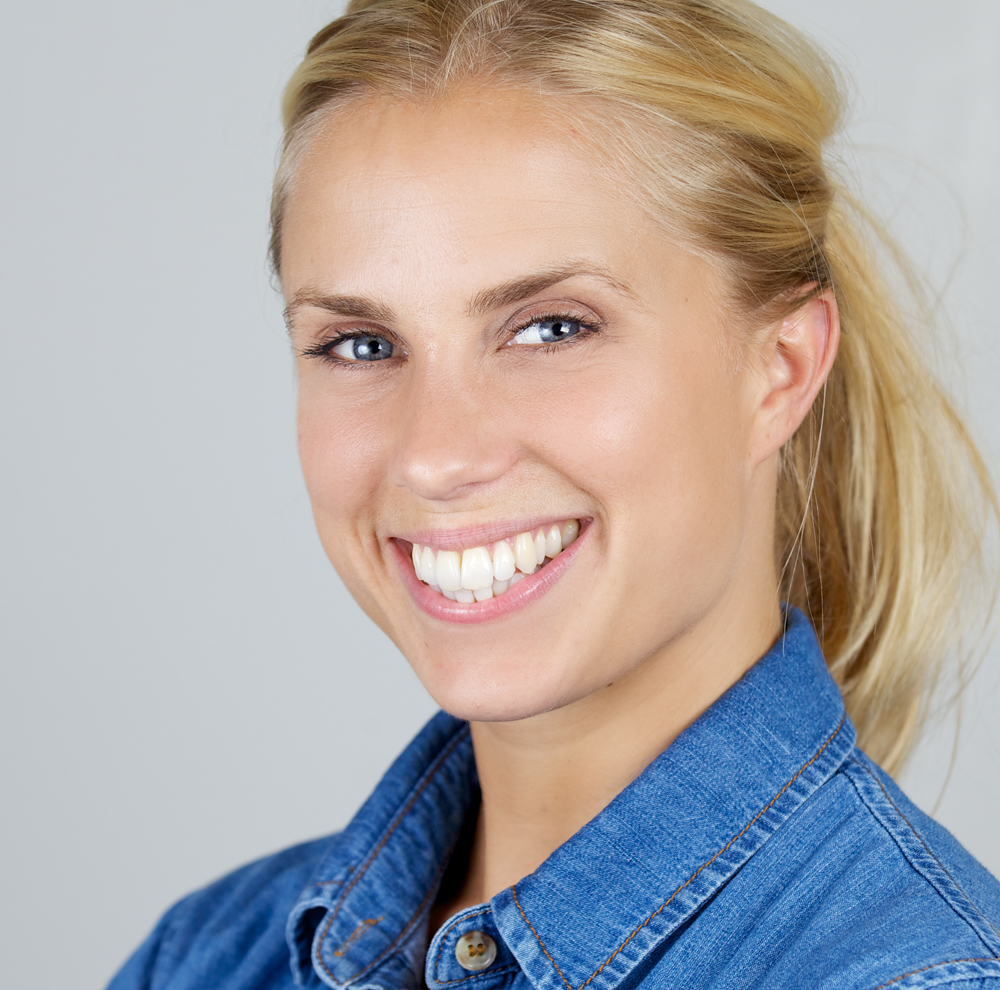 Swedish born, Kajza spent her childhood in India, where her mother was an Ashtanga Yoga teacher, helping her learn the alphabet with asanas and doing headstands before bed.
A lifelong yogi practitioner and certified teacher, Kajza is an all-round physical mover; competing in gymnastics on a national elite level in Sweden, followed by years of boxing and martial arts training, before embarking on her classical dance studies.
Established herself as a highly-respected international contemporary dancer and teacher, Kajza performed with leading dance companies and taught extensively throughout Europe and North & Central America.
Partnering with BoxingYoga™ founder, Matt Garcia, Kajza combined her passion, knowledge and experience to play a crucial role in developing BoxingYoga™ as we know it today.
"Following the success of BoxingYoga in pre-season at our Training Academy, we set-up regular post-match BoxingYoga recovery sessions for our First Team. The sessions have proved extremely beneficial and it's no coincidence the squad are recovering faster from injury and showing improvement on post-match fatigue. We couldn't be happier with the effect BoxingYoga is having on the players and their ability to consistently perform at the highest level. I strongly recommend BoxingYoga to everyone."
- Philip Morrow, Performance Director, Saracens Rugby Club
Frequently Asked Questions
I have little or no yoga or boxing experience, can I take the course?
Yes you can. You don't have to be a yoga teacher or have any qualifications or training experience in boxing or yoga to take the BoxingYoga™ Teacher Training Course. It's designed to give you all the knowledge and training you need, so you can learn to teach BoxingYoga™ safely and effectively.
What are the prerequisites to taking the course?
There are no prerequisites to enrolling in BoxingYoga™ Teacher Training. It would be helpful to have some experience of practicing or teaching yoga or boxing, but it's not essential. This course provides you with the training and materials to allow you to develop the skills and experience you need.
How long do I have access to the training materials?
You have access to BoxingYoga™ Teacher Training materials throughout your training and beyond, as you will find the information an extremely useful reference resource even after you qualify.
How long does the course take?
The course is completely self-paced, and there's certainly no pressure from us. Everyone learns at a different pace. However if you are a complete beginner to yoga or BoxingYoga™ we recommend allowing at least 3 to 4 months (maybe 1 to 2 months for experienced yogis) to learn, practice and be confident for your assessment.
Can I pay for the course in instalments?
Yes you can. Check out the payment options to choose your preferred way to pay for the course.
What is the cost of the course in my local currency?
As a UK company our prices are in UK Pounds. We recommend using an online currency convertor like xe.com for a guide on exchange rates.
Do I need to pay an ongoing license fee to teach?
No. Once qualified we do not require you to pay ongoing license fees to teach BoxingYoga™.
I have little or no business and marketing experience, can you help me once I qualify?
Absolutely. As part of your membership to the BoxingYoga™ Coaches Association we provide marketing support and business tools to help you succeed. You can also use the optional private training for guidance on a range of business and marketing topics, from the best use of social media, to whether you should offer free trial classes to prospective students and venues (hint - you should!).
Do you offer private online training?
Yes we do. Private online training is available when you are enrolled in the course and is useful if you find yourself stuck on any aspect of your training, if you require help in preparation for your assessment or simply to reaffirm your knowledge and skills.
Do you offer venue-based training?
Most of our training is delivered online, but we also organise venue-based practice training days and courses in London, Stockholm and Los Angeles. If you would like to notified of a training day or if you are interested in hosting one, let us know!
Can you recommend Liability Insurance for coaches?
We do not offer liability insurance ourselves, but as BoxingYoga™ is an endorsed programme, insurance is available. If you are based in the UK or Europe we have negotiated special rates with our insurance partner. Details are available to all enrolled trainees.
Can I progress to become a BoxingYoga™ Assessor or Head Coach?
Yes you can. Once you have successfully qualified as a BoxingYoga™ Coach we recommend at least 12 months of teaching experience before applying. All applications for Assessor or Head Coach are considered on the basis of demonstrating the highest level of teaching ability, organisational skill and passion for growth.
How can I learn more about BoxingYoga™?
For more information about BoxingYoga™ visit boxingyoga.com or email us
[email protected]
Does the format of BoxingYoga™ change or is it a set routine?
BoxingYoga™ is a structured flow but there are allowances for modification depending on ability or injury. These modifications are covered in the course.
Do you offer BoxingYoga™ Regional Licenses?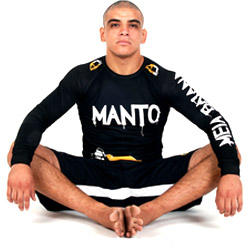 "BoxingYoga is a great program, highly recommended to everyone. Matt and Kajza are amazing people with positive energy."
- Carlos Sapao, Multiple World and Brazilian National Jiu Jitsu Champion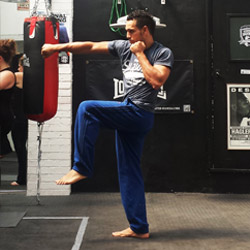 "BoxingYoga enables me to stretch out all the important muscle groups I need for my training. Coming back from injury, it's been essential help for me to recuperate in a safe and effective way, whilst improving my strength, flexibility and speed. I'm also finding it gives me real peace of mind and mental clarity parallel to my normal boxing training regime."
- Yassine Elmaachi, Prizefighter Boxing Champion